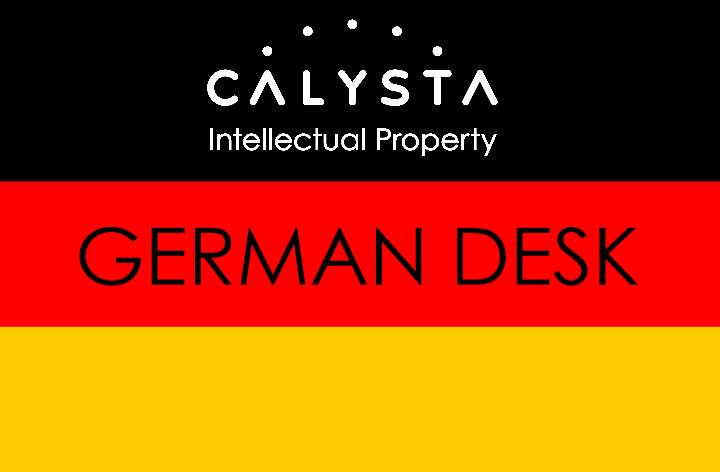 Calysta's Johannes Wohlmuth is a German patent attorney and thus an expert for all questions around German industrial property (IP) issues like patents, trademarks and designs. He starts now a German Desk at Calysta. The idea of the German Desk is to provide our Belgian clients with IP expertise regarding Germany, but also to support German clients with IP questions and services regarding Belgium.
As a German patent attorney, Johannes can represent our clients directly before the German Patent and Trademark Office and the German Federal Patent Court for  German IP filing procedures and for appeals against decisions in those procedures. This allows us to file German patents, utility models, trademarks and designs and oppositions against such IP rights without any local agents.
The German Desk can directly advise you on German IP law issues. Questions about a potential infringement in Germany, about a German employee inventor and its inventor contribution or about any other IP topic related to Germany.
The German Desk can support you with litigation in Germany. Is your patent infringed in Germany? We can support you with sending warning letters, coordinating negotiations and, if necessary, help you to enforce your patent right at German courts. Are you threatened by a patent in Germany? We support you in opposition proceedings or nullity actions against the patent or in negotiating an agreement with the proprietor.  
The German Desk also helps German firms in Belgium. Did you know that non-Belgian applicants can actually file Belgian patents in German without the need of a translation? We are one of few Belgian IP law firms that can do the complete  patent grant process in German due to its German speaking patent attorney and its German speaking paralegals. Is your European patent infringed in Belgium? We can accompany you to enforce your patent in Belgium.
The German Desk will start a News feed with interesting information about particularities for German IP law and about interesting actual developments in German IP law. We will keep you IP-tuned.