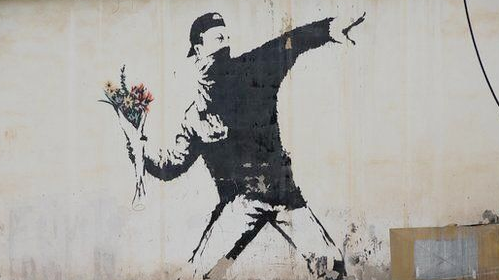 Copyright is for losers… yet it turns out to be the only IP right protecting Banksy's artwork
As a result of a recent ruling by the EUIPO Cancellation Division, street artist Banksy has lost a two-year trademark battle with "Full Color Black", a company selling greeting cards, oftentimes using Banksy's artwork. The dispute revolved around a figurative EU trademark, representing Banksy's iconic graffiti painting called "Flower Thrower", which first appeared on a wall in Jerusalem in 2005. The Cancellation Division declared the trademark invalid concluding that it had been filed with bad faith.
read the article on RTBF.BE
Bad faith
In view of the facts at hand, this decision should not come as a surprise. EU trademark law does not contain a precise legal definition of the term 'bad faith'. However, established case-law states that bad faith exists, inter alia, when it becomes apparent from consistent indicia that the trademark application was applied for without any intention to use the trademark or with the intent to obtain an exclusive right for purposes other than those falling within the functions of a trademark, in particular the essential function of a trademark: i.e. to signal the origin of products to consumers.
Although the existence of bad faith has to be proven by the cancellation applicant – and the burden of proof is rather high – it turned out that Banksy's own public statements provided ample evidence, indicating bad faith. First of all, both before and after the filing of the "Flower Thrower" trademark Banksy repeatedly stated his aversion towards intellectual property laws and encouraged others to 'steal and adapt' his work. According to a statement on Banksy's website in 2010 (3 years after the filing of the "Flower Thrower" trademark) he did not produce any greeting cards, print-canvases, etc. but encouraged others to take anything from his website and make their own.
Moreover, by his own admission, Banksy has never even sold or intended to sell any goods or services under the "Flower Thrower" sign before the filling of the cancellation application in 2019. It was only after "Full Color Black" filed the cancellation application, that Banksy started using the "Flower Thrower" sign in the course of trade. However, he chose to do so in a somewhat cynical way, which would turn out to hinder his own case. He set up a pop-up store under the name "Gross Domestic Product" and hung out a flyer at the front door stating "This shop has come about as a result of legal action. A greetings card company are trying to seize legal custody of the name Banksy from the artist, who has been advised the best way to prevent this is to sell his own range of branded merchandise." In a press article Banksy addressed the matter as follows: "Sometimes you go to work and it's hard to know what to paint, but
for the past few months I've been making stuff for the sole purpose of fulfilling trademark categories under EU law". In other words, the only reason Banksy started to sell merchandise under the "Flower Thrower" sign was to maintain his EU trademark and to prevent "Full Color Black" from using the sign.
This, in conjunction with Banksy's known stands on IP laws at the time the "Flower Thrower" trademark was applied for, clearly amounts to bad faith, according to the Cancellation Division, which concluded that it was clear that "when [Banksy] filed the EUTM, he did not have any intention of using the sign to commercialize goods or provide services« .
This is bad news for the grafitti artist, as now all his other EU trademarks are at risk of cancellation.
Copyright
Now the question remains how Banksy can protect his artwork against the commercial use by others, if not by trademark law. The obvious solution would be to claim his copyright. However, Banksy has made it very clear he does not support copyright laws with the now famous words: "Copyright is for losers". Though such humorous and a rather radical opinion definitely befits Banksy's anti-establishment views, the real reason he likes to stay far away from copyright laws is much more practical: claiming copyright would likely require an outing of whoever is behind Banksy, which would undermine his persona. Besides, claiming copyright on a graffiti painting you made on someone's private property without prior consent, of course comes with a whole other set of legal challenges.
To be continued
As Banksy can still appeal the Cancellation Division's decision to invalidate the "Flower Thrower" trademark, it is unclear how this legal battle will continue. However, one thing is certain: this decision will not have changed Banksy's unfavorable views towards IP law.